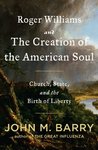 Roger Williams and the Creation of the American Soul: Church, State, and the Birth of Liberty by John M. Barry
My rating: 4 of 5 stars
Barry writes an incredibly detailed and readable history of England and New England during the time of Roger Williams. The book is really well-crafted for a non-academic audience, explaining the major issues roiling the churches and states of 17th-century England and New England with appropriate (but not overdone) drama. He clearly admires Williams' stance, but makes a substantial effort to get beyond the stereotypes of the Puritans and portray them in a three-dimensional way, which does not seem to be easy for modern writers.
Like many writers, he has some trouble portraying Calvinist theology in an accurate way. He does better than I usually see (in my limited reading), but he sometimes falls into the trap of being so focused on predestination that he doesn't see how Calvinism fits into the larger Christian theological tradition. It's understandable (after all, Calvinists themselves sometimes can treat predestination in isolation from other doctrines), but think that he could have done better in this area.